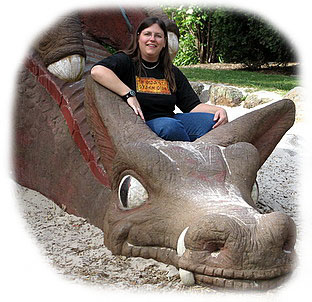 Welcome to my famous resource centre - I hope you enjoy your stay! As you explore through my pages, you will find tons of great games, camp activities, recipes, and about eighty kajillion songs to use in your Guiding/Scouting units. My website is growing all the time, thanks to the input of my many visitors, so keep checking back to see what's new. Click on one of the links on the left to start exploring.
You are welcome to include my site's URL in any Guiding-related resource, publication, or website - however please note that in most cases I am not the original author of the material, so give credit where credit is due (i.e., if you use a resource that was passed to me by someone else, make sure their name gets mentioned in your publication too). Please do me the courtesy of dropping me a note to let me know you've used material from my site, and don't forget to include a link to my site in any resource wherever you've used some of my material.
Disclaimer: Although I am (and always will be) a member of the Girl Guides of Canada, this website represents my own personal collection of resources and is NOT an official website of Girl Guides of Canada, or of any other Guiding/Scouting organization.